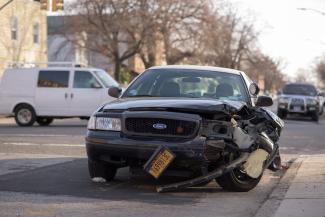 Protection Against Uninsured Drivers
About 13 percent of all motorists, or one-in-eight drivers, do not have automobile insurance.1
Having the misfortune of getting into an accident with an uninsured motorist may have serious financial consequences depending upon the state in which you reside and whether it is a "no-fault" or "tort" state.
In no-fault states, the law does not assign blame for an accident. As a result, each driver is reimbursed by their insurance company for any damages. In a "tort" state, insurance companies pay out claims based upon the percentage of fault assigned to each driver.
Any accident with an uninsured driver means no insurance reimbursement payment for their apportioned share of the damage. This can leave you holding the financial bag.
How to Protect Against Uninsured Drivers. Some states require drivers to take out insurance for uninsured (and underinsured) motorists. Where not required, it makes good sense to add that coverage to your auto policy.
You can buy protection against uninsured (and underinsured) drivers for both bodily injury and property damage. This coverage may also be valuable in cases where an insured motorist flees the scene of an accident without trading insurance information.
The first step to protecting yourself against this potential financial risk is to contact your insurance agent to discuss your current coverage, applicable state insurance laws, and what you need to do to obtain protection against uninsured motorists.
 
Our advisors may be reached at (440) 899-4000 or (info@cornerstonewealthmgmt.com).
Please visit our website at www.cornerstonewealthmgmt.com .
This material was prepared by MarketingPro, Inc., and does not necessarily represent the views of the presenting party, nor their affiliates. This information has been derived from sources believed to be accurate. Please note - investing involves risk, and past performance is no guarantee of future results. The publisher is not engaged in rendering legal, accounting or other professional services. If assistance is needed, the reader is advised to engage the services of a competent professional. This information should not be construed as investment, tax or legal advice and may not be relied on for the purpose of avoiding any Federal tax penalty. This is neither a solicitation nor recommendation to purchase or sell any investment or insurance product or service, and should not be relied upon as such. All indices are unmanaged and are not illustrative of any particular investment. 
Information throughout this internet site, whether investment specific, charts, articles, or any other statements regarding market or other financial information, is obtained from sources which we, and our suppliers, believe reliable, but we do not warrant or guarantee the timeliness or accuracy of this information.  The information and opinions contained in this website are provided by CWM for personal use and informational purposes only and are subject to change without notice.  Nothing contained on this website constitutes investment, financial, legal, tax or other advice nor is to be relied on in making an investment or other decision.  Nothing on this site should be interpreted to state or imply that past results are an indication of future performance.
Citations.
1 - cars.usnews.com/cars-trucks/car-insurance/uninsured-motorist-car-insurance [4/12/19]